We Love Littleton!
November 6th, 2017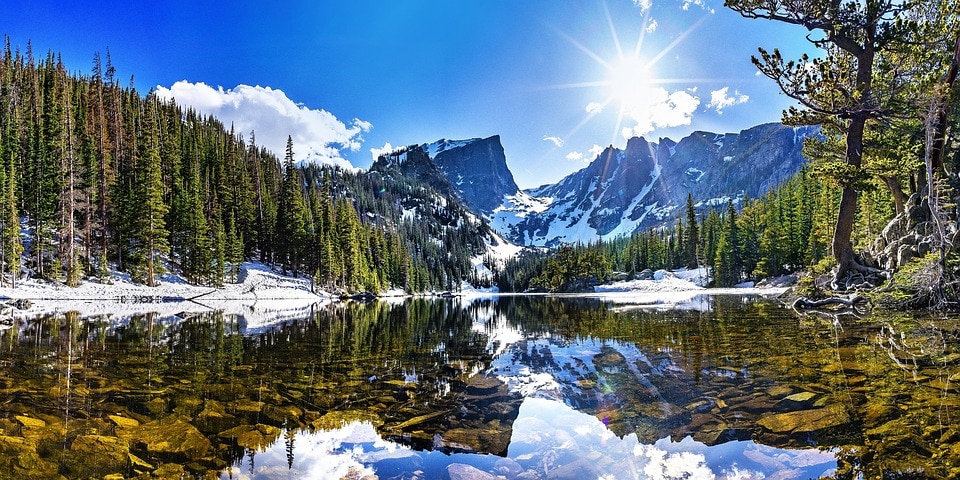 Lehrer's Flowers provides flower delivery to Littleton, Colorado! Though our flower shop is located in Denver, Colorado, we regularly deliver flowers to homes, businesses, weddings, and events in Littleton. Over the years, we've formed treasured friendships with families and local businesses in the well-loved town - and Lehrer's loves delivering flowers to Littleton.
Littleton is a small city in the Centennial state. It was birthed from a homegrown blend of opportunity, ingenuity, and community. Historically, Pike Peak's Gold Rush of 1859 led many merchants and engineers westbound. One of these engineers, Mr. Richard Sullivan Little of New Hampshire, started the Rough and Ready Flour Mill with the help of his neighbors; providing a stable income for families in the area. Years later, in 1890, the 245 residents came together and officiated the town; naming it after its founder. Since then, it has grown to be a city of over 44,000 people.
Located south of Denver and on the east side of the South Platte River, Littleton has a lot to offer. The lovely Colorado town has been ranked the 2nd Best Small City in American by WalletHub, and one of the 10 Best Places to Live in Colorado. With over 59 public parks, a thriving downtown scene, and several historic landmarks, Littleton is a delightful destination for families and businesses alike - and, ideal for flower delivery from Lehrer's!
Lehrer's Flowers provides flower deliveries to homes and businesses in Littleton, CO. As a family-owned and operated flower shop for almost 100 years, we take pride in our products and service. Our flowers and plants are purchased straight from growers, and placed in the hands of our talented designers; who then take creative liberty to design a seasonal floral masterpiece. These arrangements and bouquets make excellent client gifts, office decor, or employee appreciation tokens. If you are a business owner and would like more information on the potential possibilities of coordinating with Lehrer's on standing orders of fresh flowers and plants, please visit our Corporate Flowers Page.
While Lehrer's loves all flowers, we have a soft spot for wedding flowers. We will gladly provide wedding flower delivery to any venue in Littleton. Our wedding work has been featured on Borrowed and Blue, Wedding Wire, and on the pages - and cover - of Rocky Mountain Bride. Furthermore, our designers have coordinated with several notable Littleton, Colorado wedding venues. Here are two of our favorites.
The Manor House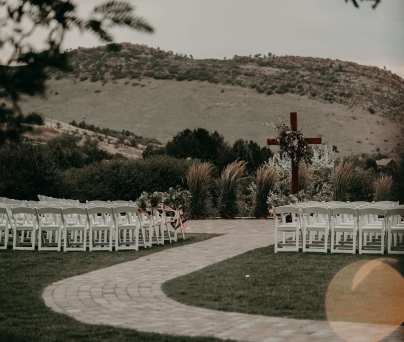 Photo Courtesy of
Lindy Hickman Photography.
The Manor House is a historic venue in Littleton, Colorado. Built in 1914, The Manor House has hosted hundreds of notable guests, including Presidents William Howard Taft, Warren Harding, and Theodore Roosevelt. The property's 2,600 acres of land lends to stunning views and a gorgeous landscape.
Fast forward to today's endless possibilities of a modern-day Colorado wedding: enter, the Casseday's. In early 2017, Matt and Sierrah Casseday exchanged vows at this gorgeous space; and Lehrer's had the honor of designing and arrangements and providing wedding flower delivery. Such a breath-taking background deserves exceptional accentuations - and our designers surely delivered excellence. So much so, our work was featured on the cover of the 2017 issue of Rocky Mountain Bride - beautifully captured by Lindy Hickman's Photography! Here is a taste of the stunning photographs that captured Lehrer's Flowers' unforgettable interaction with the Manor House in Littleton.
Lehrer's designers took full advantage of the Midwest wide open space of The Manor House's Littleton location, beautifully accentuating every inch with petals and stems - all while letting nature speak for herself. We composed shades of burgundy, pink, white, and black in a romantic melody of soft hues and brash textures. While each arrangement, bouquet, and floral fixture was slightly different, they all came together in a cacophony of creative genius - including a floral adornment on a huge wooden cross. All other wedding details - the bride's dress, the bridesmaids, the cake, and the table settings further contributed to the cause of a modern romance with an old-world feel. To see more photos from the Casseday's wedding featuring Lehrer's wedding flowers, click here.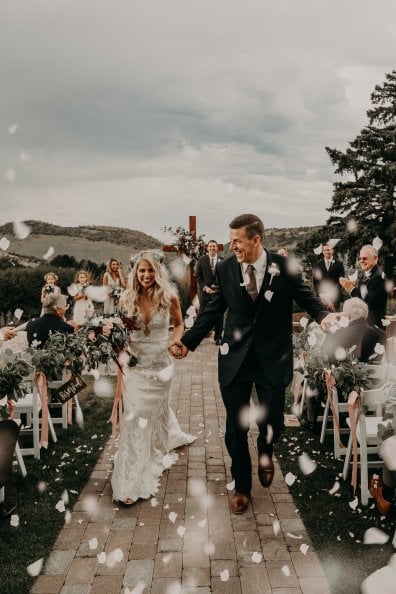 Denver Botanic Gardens Chatfield Farms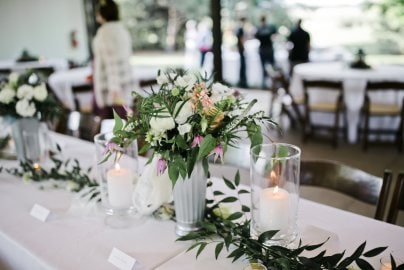 Photo Courtesy of Leah Michelle Photography.
Denver Botanic Gardens Chatfield Farms is a naturally beautiful location in Lilttleton, CO. The 700 acres of land nestled between the base of the Rocky Mountains and the banks of Colorado's Deer Creek provides a picturesque place for weddings and events. In the summer of 2017, Nate Grimm and Jenna Deyong celebrated their union at the Deer Creek Stables at Chatfield Farms in Littleton - and Lehrer's provided the wedding flowers.
This converted stable is the definition of rustic elegance. The open air feel of the door-less stable creates instant community; providing the best of both worlds - charming indoor details and stunning outdoor views. The wedding flowers furthered this summertime sentiment, featuring natural bouquets of whites, lavender, and green. The soft colors and wispy textures of the floral arrangements and bouquets perfectly complemented the effortless beauty of the bride and her bridesmaids - and the tangible joy on the faces of everyone present.
In conclusion: if you are getting married in Littleton, choose Lehrer's! As you can see, our designers labor in love over every detail of your wedding flowers, with the intention of creating an unforgettable experience.
Yet, even if you are not getting married - choose Lehrer's. Lehrer's Flowers is passionate about collaborating with all families, churches, schools, funeral homes, and businesses in Littleton, Colorado. If you have family in Littleton, and need flower delivery in any capacity, including sympathy flowers, Lehrer's will deliver excellence - every time. Trust our family-owned flower shop for all birthday flowers, new baby flowers, anniversary flowers, everyday flowers, get well flowers, plants, sympathy and funeral flowers, and so much more. From all of us at Lehrer's: we look forward to working with you, Littleton!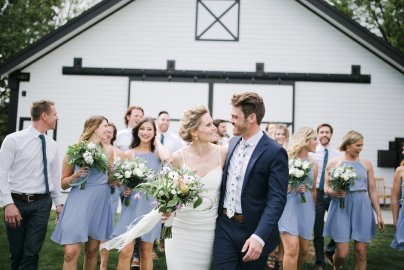 Photography Courtesy of
Leah Michelle Photography